Your 3CX Basic Certification Starts Here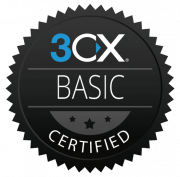 The 3CX Basic Certification course consists of seven modules all of which are fundamental to be able to correctly setup and configure your PBX. In a nutshell, they cover the basic concepts of getting 3CX up and running as well as basic troubleshooting techniques and will ultimately prepare you for the next stage; the 3CX Intermediate Certification. Each module provides you with ample material to ensure that you can easily pass the Basic exam from the first try.
Follow the course
Click on any of the modules below to get a detailed overview of what's covered, the course content, supporting documentation as well as sample questions.
Find out everything you need to know before performing your first installation of 3CX; such as FQDN and Certificates, which ports need to be used and more.
The 3CX Web Client is a web-based softphone which allows you to make/receive/transfer calls, chat with your colleagues, scheduling conferences and much more directly from your browser. No need to download any apps or software. This module explains how the basic functionalities work and how to access your web client.
What are the 3CX apps and how can you use them to benefit your business? This module covers everything you need to know from how to provision them to how PUSH works.
Desk Phones. Every business has them. With 3CX they're super easy to configure and in this module we show how PnP works as well as how you can remotely manage the phones.
Learn all about what network traffic 3CX generates, how to set up and configure your Firewall, which ports 3CX uses as well as how to check if you have configured everything correctly.
Configuring a supported SIP Trunk with 3CX is a matter of a few minutes. This module covers setup as well as configuring inbound and outbound rules.
Voicemail is still an important feature of any phone system. In this module, we will show you how to change your voicemail greeting according to your status as well as some more advanced voicemail settings.
Digital Receptionist can help streamline your incoming calls and have them routed to the correct extension. In this module, we take you through setting up your Digital Receptionist, as well as explain all the options available to you.