Phone Recording Introduction
Large businesses and call centers make hundreds or thousands of calls a day – finding the exact record you are looking for can be a challenge. 3CX Recording Manager provides a web portal with a searchable database. It has a built-in query manager that makes it easy to build simple or complex queries. You can listen to the recording directly from the portal and save the recording to your computer or email it to anyone you choose. You can also delete your recordings directly from the portal, giving you complete control over your call recordings.
Phone Recording solution topology
Remote Archiving
The latest version of 3CX has made more improvements to the recording function. The system currently supports backing up recordings to Google hard drives or FTP servers.3CX will automatically archive all recordings to a remote location when enabled. Ensure that Auto Cleaning Options does not conflict with Automatic Archiving Policy. Warning: All current recordings will be archived.
See group recordings
The system can set up an administrator for the group, who has the authority to view the recordings of other members of the group.
Management Rule
The system administrator has the authority to set rules for the recording of each extension. These rules include 4 options
Recording off
Record all calls
Record External calls only
Allow users to start and stop recording (By pressing rec on off button in the clients / IP Phone) (Available in Enterprise only)
Recording Compression
Compress recordings to save space (ADPCM format 256 KB per minute instead of PCM format 1 MB per minute of recording). Note: Will did not play on Mobile devices or Browsers. VLC or Windows Media Audio Player will be required
Recording Enable
The softphone provides a button during the call. This button allows you to choose to turn recording on or off during a call. This option only works in 3CX softphones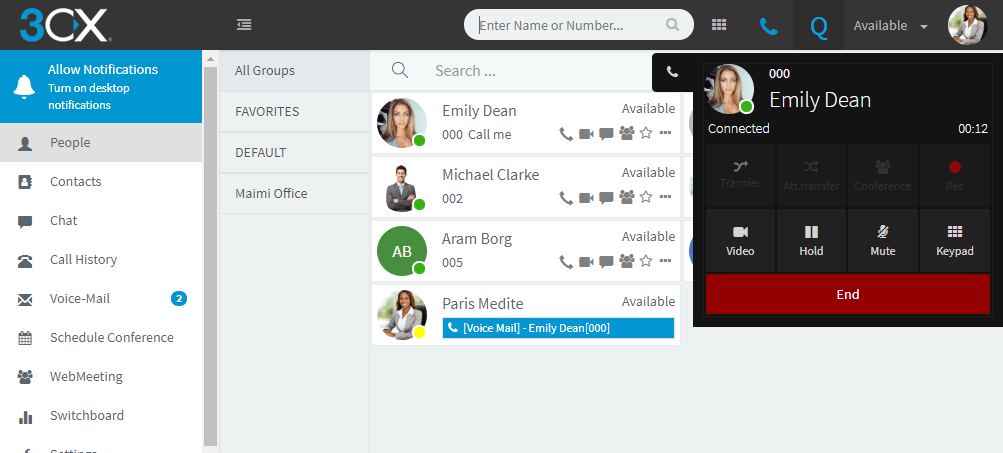 Recording User Interface
The softphone provides an interface that allows the user to quickly view all relevant recordings. The interface is based on HTML5 and can be quickly queried to any recording in any supported browser.
Multiple interfaces
3CX's mobile softphone, web softphone and windows softphone all support viewing recording. Give users multiple ways to access their own recordings
Related Products