Moving on to the 3CX Intermediate Certification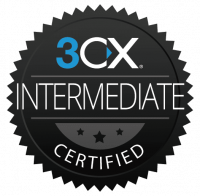 Congratulations on passing the 3CX Basic Certification test! To continue enhancing your 3CX knowledge you can now move on to the 3CX Intermediate Certification. This certification covers more advanced and complex configuration options within 3CX, such as; extension groups and rights, configuring remote extensions via STUN or SBC, backups and more. The Intermediate Certification will prepare you for the last certification stage, the 3CX Advanced Certification.
Follow the course
Click on any of the modules below to get a detailed overview of what's covered, the course content, supporting documentation and sample questions.
The PBX Express tool allows you to deploy 3CX in a cloud provider of your choice, using your own cloud account. Just 5 simple steps and your cloud PBX will be up and running in no time.
Backup and Restore is an important feature for any PBX administrator. In this module, we explain how to backup 3CX, what's included in the backup file as well as how to restore it.
Call recordings are a must feature for most call centers. Whether it's to train new agents or listen back to find a customer issue they can be vital. In this module, we cover the Call Recording functionality in 3CX and its different options.
This module covers how to configure a remote STUN IP Phone. From the prerequisites and the supported STUN devices to RPS provisioning and remote firewall requirements. At the end of this module, you'll be able to setup a remote STUN IP Phone in no time.
You can configure a remote IP Phone using the 3CX Session Border Controller (SBC). In this module, we cover the advantages of using the SBC as well as setup and configuration.
Hot Desking can save you a lot of office space by allowing employees to share the same IP Phone but with different extension numbers. In this module, we cover the hot desking feature in 3CX and how you can configure it.
Some extensions may require different settings than others. For example, one extension might need access to forwarding rules and another to voicemail management. This module explains the various settings available and how to configure them for different extensions.
Managing many extensions can be chaotic. In this module, we go through the steps of creating extension groups so you can group your extensions based on departments and the different roles and rights each user can have.
Set up your global office hours, inbound rules, extension profiles and holidays within your PBX. This module takes you through the steps to do so as well as how to automatically route calls based on the pre-configured times.